Part #1. The starting point. Choose your platform.
Today's tech-savvy generation has never known life without a digital world of connection. In this day and age, what's the process of making a website? What's the ideal route for you? The answer is, it depends. The industry offers you countless options to build your own online business without having to sweat for it. However, there's no silver bullet. For some people, it's simply the matter of preference and a budget. Depending on the CMS platform you choose, the functionality you require, the time involved, and the extent of the content you need, the price can vary, much.
Create your own real magic with a website template
Nowadays almost everyone can create website without any prior programming or coding knowledge. With an onslaught of easy-to-make site creators like WordPress, Wix, Shopify, PrestaShop, Magento, etc. the process of a website creation is as simple as kids play. Simply put, a platform is a back-end structure used to create website. Therefore, depending on the skill level required, there are some user-friendly CMS platforms ensuring anyone even with a skill gap can build, edit and manage his own website to some degree.
Any of the CMS platforms can be considered as the bones of your future site. Think of these bones as the stones needed for building a house. That's where you have to think twice before making the correct choice. In addition, there are tons of beautiful free and premium website templates ready to go out-of-the-box. Whether you need to create a blog page, launch an online store selling different goods or services, or design an outstanding portfolio page, make sure – there'll be at least one worry-free solution that fits your needs.
The bottom line is that you have a choice. Thanks to the boundless ocean of free website builders, you can pick your ideal design and create a website that fits your needs. Premium templates, however, could have different designs and come with tremendous features, robust functionality, and almost endless customization options possible.
Keep on reading to learn how to choose a template you like, download it, find all important bells and whistles included in it. So, let's move on.
Part #2. Build a website using a free website template
Here comes the most interesting part of our journey. Let's share some tips that will be useful for those who decided to build a website using a website template.
Focus on what matters. What type of website is it going to be – an online store selling goods, a blog page, an online portfolio, or a media portal? It's one of the crucial steps to be made when deciding what CMS platform to choose. Feel free to browse through tons of free and premium themes and templates to make a better decision later on. However, if you wish your website to stand out from the crowd, to have a lifetime 24/7 support, additional materials like scripts, source files, user guides, or/and stock photos – choose premium website templates.
If you take a closer look at TemplateMonster's templates, you will find different products crafted with care for a specific category of sites – there are MotoCMS templates for restaurants, real estate agencies, design and photography projects, sports, and fashion portals, etc. Almost every MotoCMS theme can be customized to match your personality.
So let's dive into customization of your website. After 14 days you could make the choice "I need to launch my own website" or "Not sure". Just go to Interactive Builder and proceed.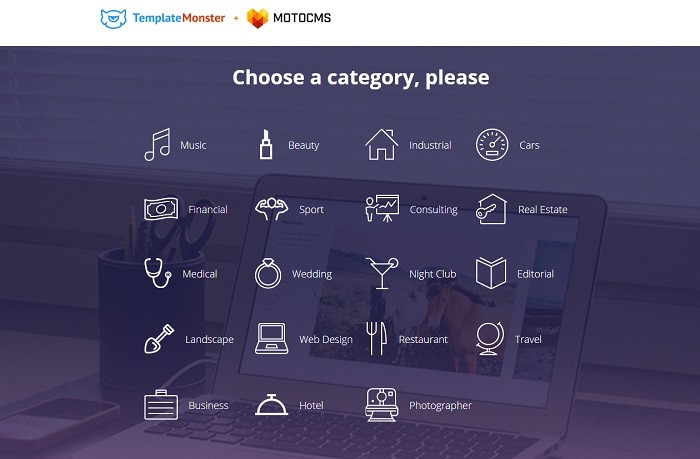 Picking and downloading a template
This time we decided to try one of MotoCMS themes from the business category. Why? Simply put, this is a super-fast and easy to use website builder allowing create responsive websites. Not enough? What about built-in e-Commerce functionality, SEO-optimization, friendly 24/7 support, and drag-and-drop site design? These and other bells and whistles come included in each MotoCMS template.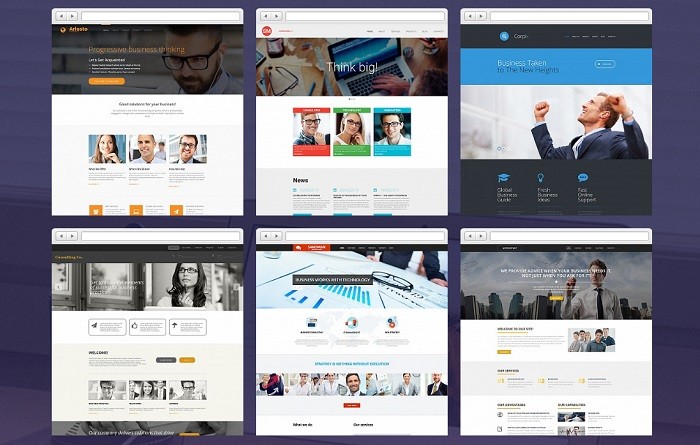 What's inside?
As soon as you decided to get a trial for MotoCMS theme, you'll be asked to register and verify your account creation. In a minute you are able to start creating your website.
That's where you have to get inventive. With the help of a handy drag-and-drop builder, you can customize almost every tiny thing on your website. A simple drag-and-drop functionality makes the entire process as simple as kids play. The sections 'Pages', 'Design', 'Media Library', and 'Settings' are intended to point you in the right direction. The section 'Design' offers you plenty of design options like text styles, colors, background, widgets, size and values.
Let's learn, research and grow to get all the fancy bells out of this MotoCMS theme.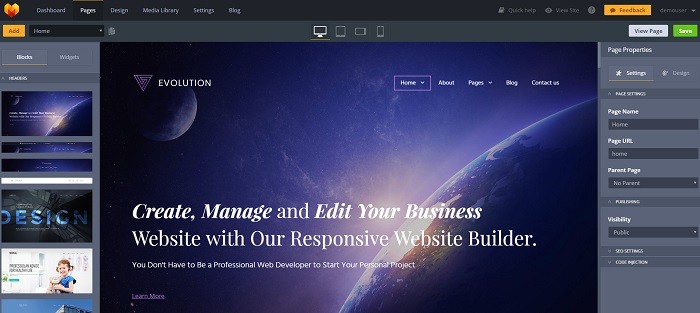 The section 'Pages' gives you the free will to tweak each page of your website separately. It includes almost endless options to make each page of your site look good.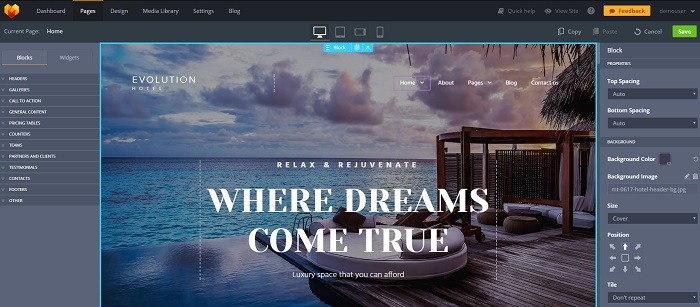 You can change headers/footers, add a contact form, pricing tales, testimonials, call to action button, and more.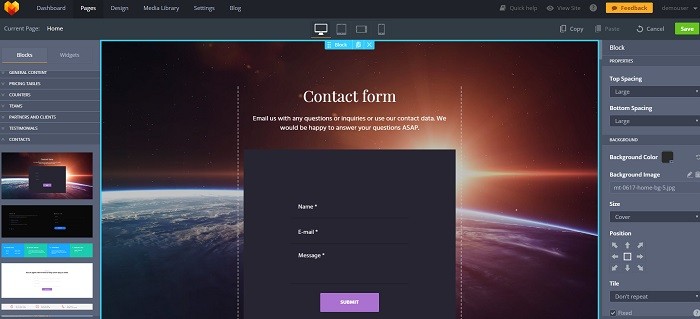 Inside 'Media Library' find a set of options to store and manage all your media files such as images, videos, audio files, and documents.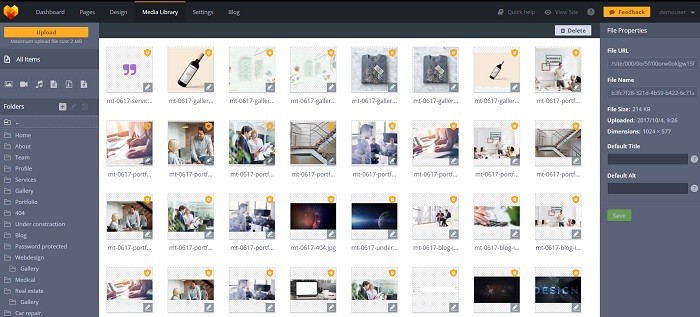 The 'Blog' section allows you add a blog to your website. If you want to change or tweak the general settings of the website (set deault language, edit URL, favicon, etc.) – the 'Settings' section is right up your alley.
Responsive design is absolutely essential these days. MotoCMS website builder made a knight's move and adds a responsive nature to all its themes right from the start. The hardest work is done for you.
The 'Analytics' can help you verify your site in Google and make a tracking statistics of your site's visitors. Learn more about how to create your own account and start tracking statistics.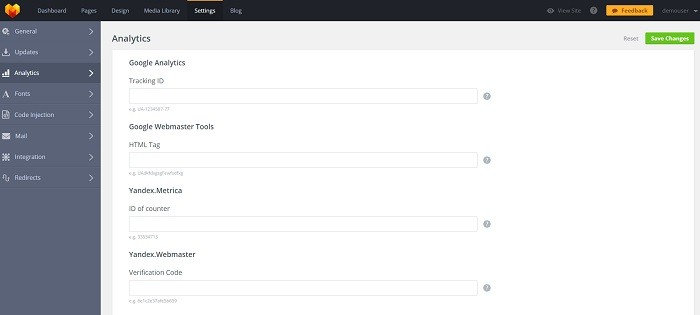 Bear in mind that the creation of a website is an ongoing process. You need your website to be as user-friendly and functional as possible, so remember to keep it updated. A website without any updates is a 'dead' website. So, keep it up!
Part #3. Design a website that holds the cachet
You can't just wait for consumers to come to you. You have to figure out where they are, go there and invite them to your site. With millions of websites floating around on the Internet, it's crucial to make your website appear high in the search engine results. Help search engines look at your website more frequently. This can be done by achieving higher ranking based on your content. Keep in mind, every time you make an update to your website, the search engine re-arranges your site's rankings. Thus, keep your content standards high to help your website get points from Google.
Keys to success
It's not a secret, that without links your content is very unlikely to rank. Linkin lets you create a scalable path to making your website's experience better and more rewarding for your visitors. Find great links and reward those reputable brands to become a reference source in your niche. When you link out, you give a signal that you're creating the web's natural linking environment. Remember, the best links to your site are the ones coming from valuable websites with a high-quality content and social media outreach.
What's more, pay attention, that text links are better understood than image links. Add a text description under each link you use. A small paragraph or even just a sentence can help your visitors better understand the crystal clear mission of your site.
The site speed is also extremely important to SEO. Fast-loading sites are not rank better, but they also help you maximize your conversions.
You need to always update everything when possible on your web server. The 'Updates' menu item can help you automatically update your admin panel up to the latest version. Once your version becomes outdated, you'll get a notification that a new version is available for download. Feel free to update your version anytime.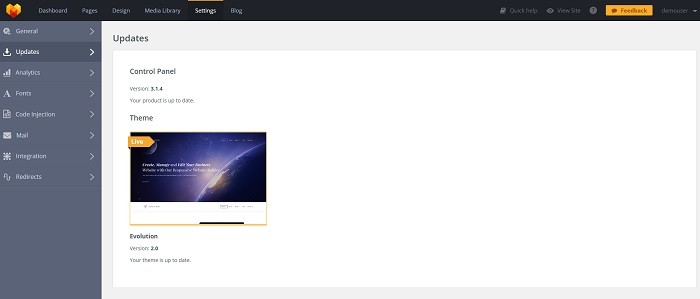 If the content is king, then magnetic headlines are responsible for converting readers into buyers. You have roughly 8 seconds to capture the attention of your visitors, so pay serious attention to your headlines and make a great first impression. Fear not to think out of the box and add a touch of curiosity to them. Create a commenting section to help your readers interact with you. Check whether your call-to-action buttons are highlighted clearly enough on your landing page.
You can do it!
If you follow the above-mentioned steps, chances are you can grow and maintain your website with success. Stay focused on your content creation, rewriting, reworking, interaction, and engagement on your website. Focus on the benefits your readers will get once they become your visitors. For you to achieve your goals, the visitors must first achieve theirs. Light up the imagination. Create so much value in the package you're offering and make it practically impossible to say no.
Get started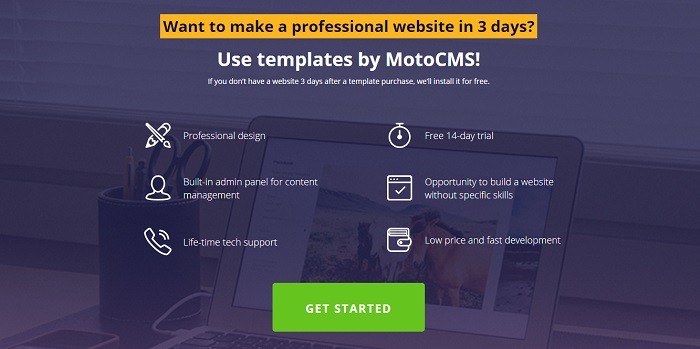 It's clear that website templates have their advantages, and if you don't have a website till now – create it! Try and take advantage of MotoCMS templates – the sooner you start, the sooner you'll see growth in your business.
So, what's holding you back from creating a website that holds the cachet?
---
About the author:
Lana Miro falls in love with beautiful web design. She likes to share her experience and explore something interesting. She also cooperates with TemplateMonster for helping everyone to find their best solutions for their own online projects. Follow her Facebook for more awesome content and fresh ideas.