Discover the 8 top customer service tools you need to implement in 2023. Ensure efficient workflow, knowledgeable staff, and a refined customer experience to stay ahead of the competition.
Customers' needs have evolved as technology has evolved. Thus, organizations frequently embrace new technologies or software solutions for customer experience to provide excellent client service when needed.
A customer service tool is a centralized application that helps you monitor, respond to, assist, connect with, and analyze client complaints more successfully and efficiently.
Since no two firms are alike, neither are their customer service software needs. There are various customer service solutions, and organizations can select one based on their requirements.
These programs can be tailored to match the needs of small businesses to multinational corporations. All have one thing in common: a desire to enhance customer service. For that reason, we have compiled the top eight customer service tools to implement in 2023
Customer Service Tools to Implement in 2023
1. Bright Pattern
Bright Pattern provides a cloud-based automatic calling system called autodialer. It can be linked with its omnichannel call – center software. The auto-dialer solution is intended to assist businesses in improving their outbound campaigns by automating the dialing procedure.
The automated dialing systems include advanced capabilities such as predictive, progressive, and preview dialing. This can enhance agent efficiency by reducing manual calling and guaranteeing they only interact with live prospects. Overall, this improves the customer service as they don't have to wait in long queues to solve their problem.
Furthermore, Bright Pattern's auto dialer solution provides compliance capabilities to help organizations stay compliant and avoid fines. The system periodically checks the call list against the national and state Do Not Call lists. This verifies that conversations are only conducted with appreciative prospects.
Furthermore, the system incorporates call recording and monitoring capabilities, allowing organizations to comply with regulatory requirements while improving performance.
2. HubSpot
Service Hub is a complete customer service software platform that combines assistance tools into a single platform. The HubSpot ticketing system now includes live chat functionality. It tracks and logs the volume of tickets, turnaround time, and live status. It also contains a built-in automatic ticket routing system that guarantees tickets are issued to the relevant people.
It also features chatbots that may assist clients through the mobile application or website and reply to the most popular queries.
3. Zoho Desk
Zoho Desk is a popular customer care software for small businesses. Although Zoho's CRM product receives the most prominence, the firm offers a help desk application. A shared email inbox, phone compatibility, and real-time conversation are among the capabilities of Zoho Desk.
The chat option, however, is only accessible on the top-tier subscription. In addition to typical help desk features, the program includes sophisticated services. It includes ticket tracking, task automation, and performance reporting tools. It will help to speed up your team's service activities.
Zoho Desk is well-known for allowing you to deliver multichannel support to clients in multiple languages via email, social media, live chat, online forms, and phone. For businesses with several people, team management solutions such as time tracking are accessible. The company also offers AI self-service services. Nevertheless, that feature is only available in the most expensive plan.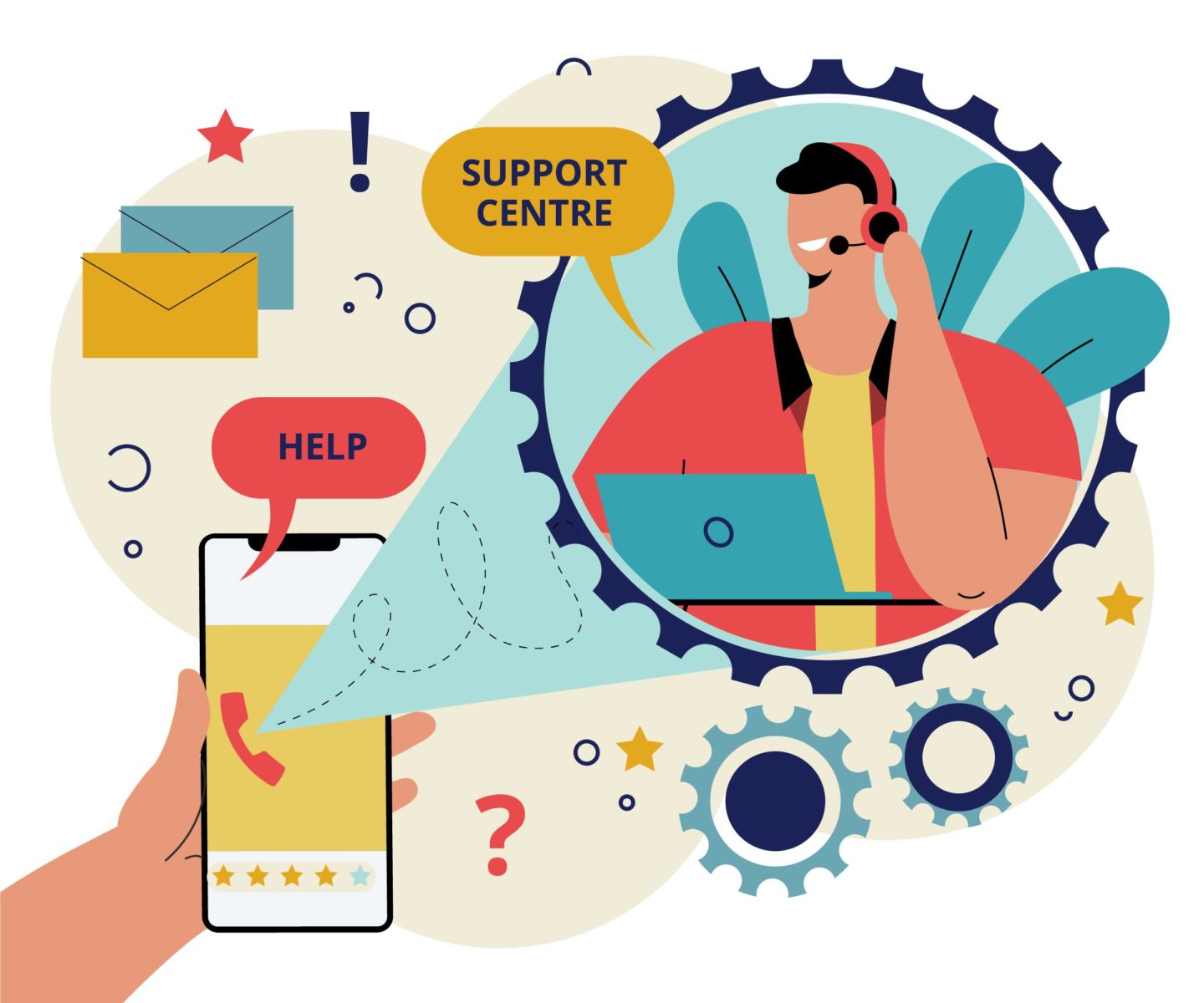 4. Slack
Slacks easy-to-use chat interface allows customer service teams to communicate quickly and efficiently with customers, helping to expedite resolution times.
Its integrations also allow customer service solutions to be securely connected to third-party applications and customer data, providing customer service teams with a wealth of valuable information.
With its versatile workflow automation capabilities, customer service teams are able to free up time from repetitive tasks and focus on more pressing customer-related tasks. Slack offers an intuitive platform for teams of any size to maximize their customer service operations.
5. Nextiva
Nextiva is the best available business phone service provider nowadays. It also offers an easy-to-use customer support CRM. It provides your firm with multichannel service via email, phone, live chat, social media, and SMS. In a unified dashboard, you can access client data from all sources.
Furthermore, you can reply to inquiries from a single location, regardless of how your consumers contact you. The additional capabilities include call routing, a self-service knowledge base, prefabricated responses, and a mobile app.
6. Help Scout
Help Scout offers a multitude of features including automation, collaboration, and customer tracking, ensuring customer service inquiries are handled quickly and efficiently.
Help Scout's interface is designed to be intuitive and user-friendly, making it easier than ever for customer service representatives to manage their cases and help customers quickly.
Help Scout's analytics insights also provide real-time feedback, allowing customer service teams to make informed decisions regarding their customer service operations.
Help Scout also delivers comprehensive reporting statistics and metrics, allowing you to see what's performing and where your team can progress. Their time-tracking analysis reveals where your agents are most active, allowing you to enhance your production processes and reduce time to resolution.
A live chat function is accessible for company owners who want to add additional support channels. Although it is less sophisticated than other market-leading live chat systems, it can be a good alternative for many firms.
7. Help Juice
Helpjuice's self-service client software lets you respond quickly to your client's concerns while eliminating common queries. Furthermore, the platform offers a more straightforward user interface, needs little pre-implementation planning, and can be quickly adopted by any group. In regards to software analysis, HelpJuice stands out.
You can configure the software's inner parameters to highlight only the metrics that are vital to you on the dashboard. Furthermore, your team can use advanced analytics to determine what is not working. These characteristics and Help Juice's user-friendly interface and appealing appearance make it a top choice among customer support systems.
8. Intercom
Another well-known product in the customer support app sector is Intercom. Customers can get help from the service via live chat, email, and self-service platforms. This application is highly user-friendly, and its guided, dynamic product tours tremendously assist in acquiring new users with the program.
One of Intercom's most significant parts is the live chat plugin, which you can embed in your website, app, or product. Thanks to multichannel support, users may now obtain immediate help from you via chat at any moment without needing to visit your website. This feature lets clients contact you conveniently, reducing time and providing a smooth user experience.
Conclusion
Providing exceptional client service is critical for developing long-term customer relationships and generating corporate success in the modern business landscape. Yet, with the proper instruments, this can be easier to achieve.
Companies can optimize their customer support strategy and deliver outstanding service that keeps customers delighted and returning for more by utilizing the best customer service tools.
As the customer service landscape continues to evolve, it's essential for businesses to invest in tools that will empower their teams and improve their customer experience.
From AI-powered virtual assistants to prioritization queues, these tools make customer service efficient, scalable, and personal.
By investing in such customer service technologies now, companies can ensure a competitive advantage and better serve their customers well into 2023 and beyond.