Designers love Halloween! Here at Futuramo, we couldn't help but celebrate it by creating 16 extra Halloween icons.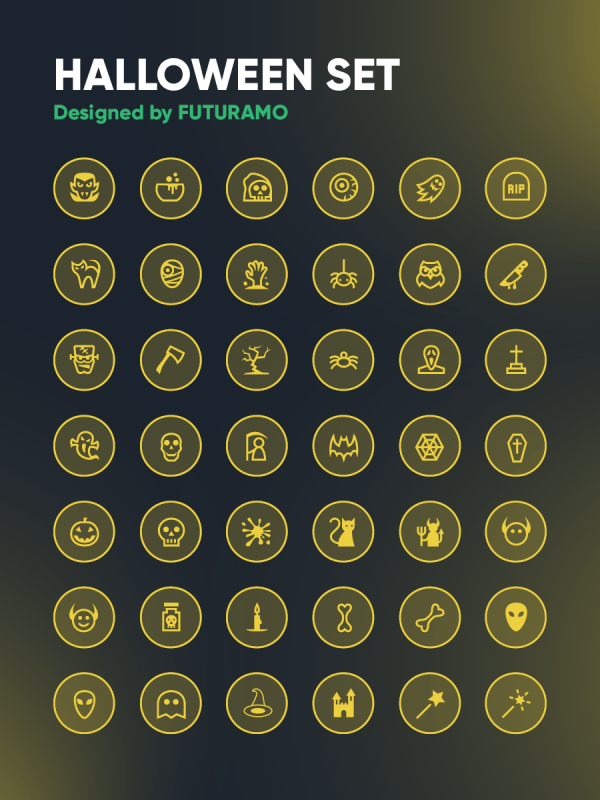 If you're looking for Halloween-themed user interface icons, you should be quite satisfied with the Futuramo's choice: skulls, pumpkins, scary trees, Frankenstein's monster, spooky owls, mummies, creepy eyes, vampires, haunted castles, ghost, bats and zombi's hands. Find these icons are more in the Halloween set. Prepare to be terrified!
As usual, Futuramo icons are available in 16 styles and offer vector, font and bitmap formats. Choose your workflow: SVG, PNG, Icon Webfonts, SVG Sprites, SVG Icon Sheets for AI, TXT.
The Halloween set now available for Futuramo Icons Free!
This is a big news for the Futuramo Icons users who enjoy the free version — you can find the entire halloween icons set in the Futuramo Icons Free!
How to get a free Halloween icons set?
In the Main Menu on the left, click the Sets section.
Find the Halloween set and click it to reveal the icons.
But don't download and exit too early!
Give the icons a personal touch by using the Style Matrix, Color Picker, Frames and Borders. Once you customize the icons, click download and select a preferred format. In a blink of an eye, you'll create a one-of-a-kind icon set that fits your vision.
Tell your horror stories in the most creative way with the Futuramo Icons!