When working on design details, searching for the most suitable icons can be a nightmare. Seems difficult, but you can tackle this infamous challenge. Instant access to one of the largest icon library and well-equipped toolbox allows you to improve your workflow. Futuramo is here to save the day — and help you find, personalize and download high-quality icon sets.
Find the right icons, style the entire sets and download in matching formats.
Whether you are looking for that last, missing icon, need a thematically-oriented set, or have to find a bunch of different, not related icons, you may calm down. Thanks to these features you will quickly select desired items, personalize them, and download a ready-to-use pack.
Icon Sets
Find interesting categories and individual icons in the Icon Sets. When you need just one or a few from one set, select them and click the ADD TO CLIPBOARD button from the options at the top of the app. You can easily navigate between your clipboard and the sets. By adding icons from different categories, you can create a unique pack of icons and style them all at once.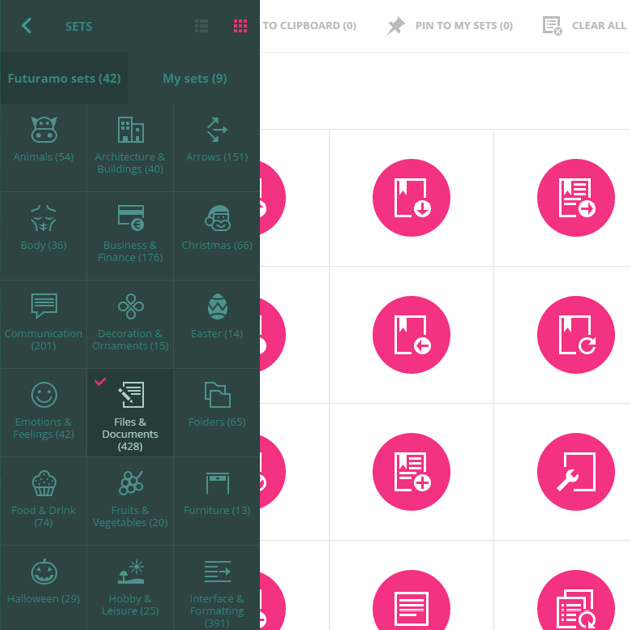 You can also compose your own sets. Simply select an icon and click the PIN TO MY SETS button (next to ADD TO CLIPBOARD). Decide if you want to keep the set private or share with your colleagues.
Style Matrix
Consistency in UX design is essential. When building an app or a website, every detail should be put in the overall context. Cohesive elements of the interface work well and don't distract users.
With the unique Style Matrix, located on the left side menu, you can customize icon sets in all design styles needed for a UI projects. From the rotund light, through the soft regular, to the square black and other between these types. You will be able to match icons to your layouts and visual identity thanks to the 4×4 grid 16 Style Matrix.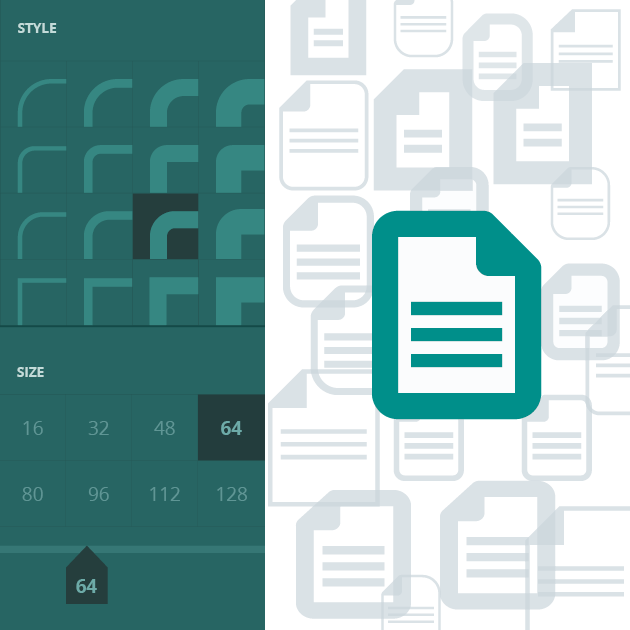 Size feature is a smart tool that helps you adjust icons to entire layout. Choose from default sizes or manually.
Frames
Another way to customize your icon sets is by using the Frames feature. You can go beyond given 24 presets, just select thickness and shape by moving stroke and corner lever.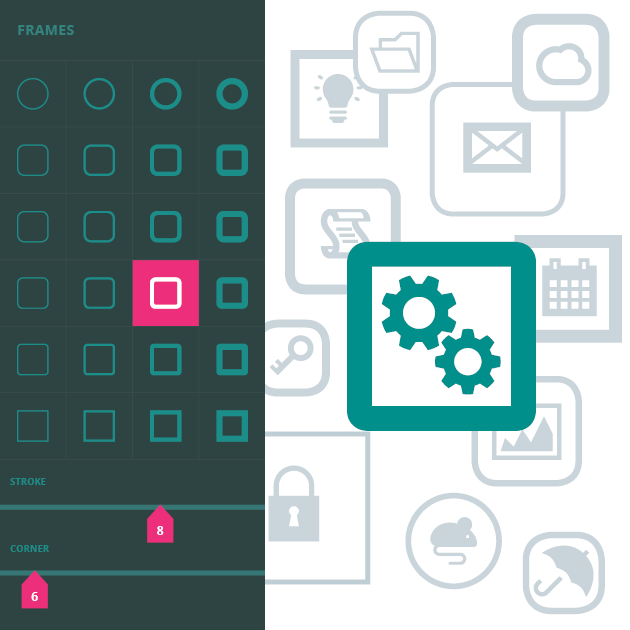 So now, let's do a simple math to see how creative you can be — 45,000 icons x 24 presets = 1 080 000+ unique icons and much more if you decide to style them manually. It's hardly possible to imagine that finding desired icons may be a problem anymore.
Color Picker
In the next step, you can use Color Picker to color defined icon sets. Apply colors to the icon, background, and border independently by switching function buttons in the Color Picker. Play with colors — it's yet another way to make something unique and creative. You can select it manually or by entering a swatch code.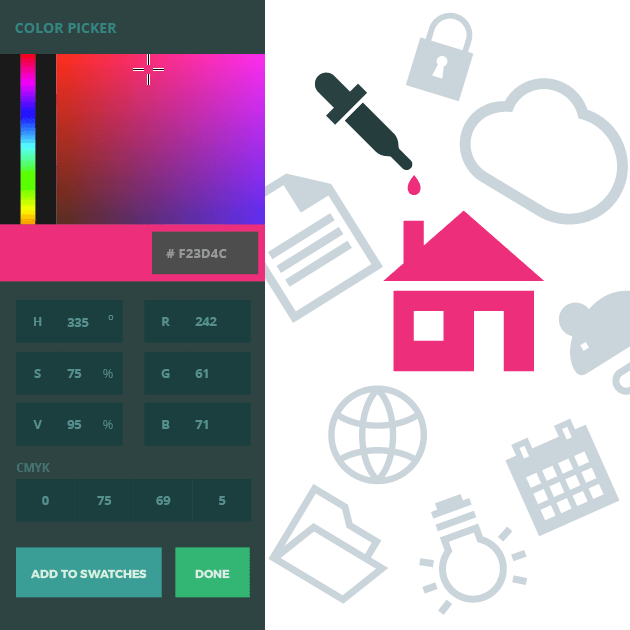 Collecting swatches may save your time in next projects.
Download icon sets in preferred formats
Futuramo Icon Sets are available in any format needed from UI Design to Web Development. When your icon set is ready, choose DOWNLOAD from the options at the top of the app. You will receive a zipped package in any of the following formats:
Webfont,
Txt,
SVG files,
VG sprite,
SVG Icon Sheet for AI,
PNG.
Futuramo styling features make 45 000+ icons library a limitless source for the UI design community. All these features are made and developed with strong users input — your feedback is more than welcome! Don't have an account yet? Use Futuramo Icons Free or upgrade to PRO at any time.