To get better results in SEO, you need to make sure that you follow the best practices which can improve your position in the search results Google. SEO practices are actually the tasks that can help you optimize your site according to the requirements of the search engine.
Now you must know that content writing plays an important role in improving or reducing the ranking position of your site. Bad content on a website can ruin its authority in the eyes of Google, and SEO-optimized content can easily boost its position.
Five Ways to Improve Content in Order to Get the Best SEO Results
Here we have discussed five ways cum tips that can help you win a better position in the SERPs by creating SEO-optimized content.
1. Identify Search Intent and Write for Your Audience
A rookie mistake that new webmasters make is that they create content that is irrelevant to the niche of their site. The content you publish on your site should always be relevant to the interest of your target audience. Before creating content, you need to first do some research and find out who your target audience is and what kind of content intrigues them the most.
Writing well-researched and informative content is very important as it helps you engage, entertain and inform your target audience at the same time. You must keep notes during research work so that you can add important information while writing the draft. Use an online notepad to gather all key points related to the topic you are working on.
2. Do Keyword Research and Use Them Early On in Content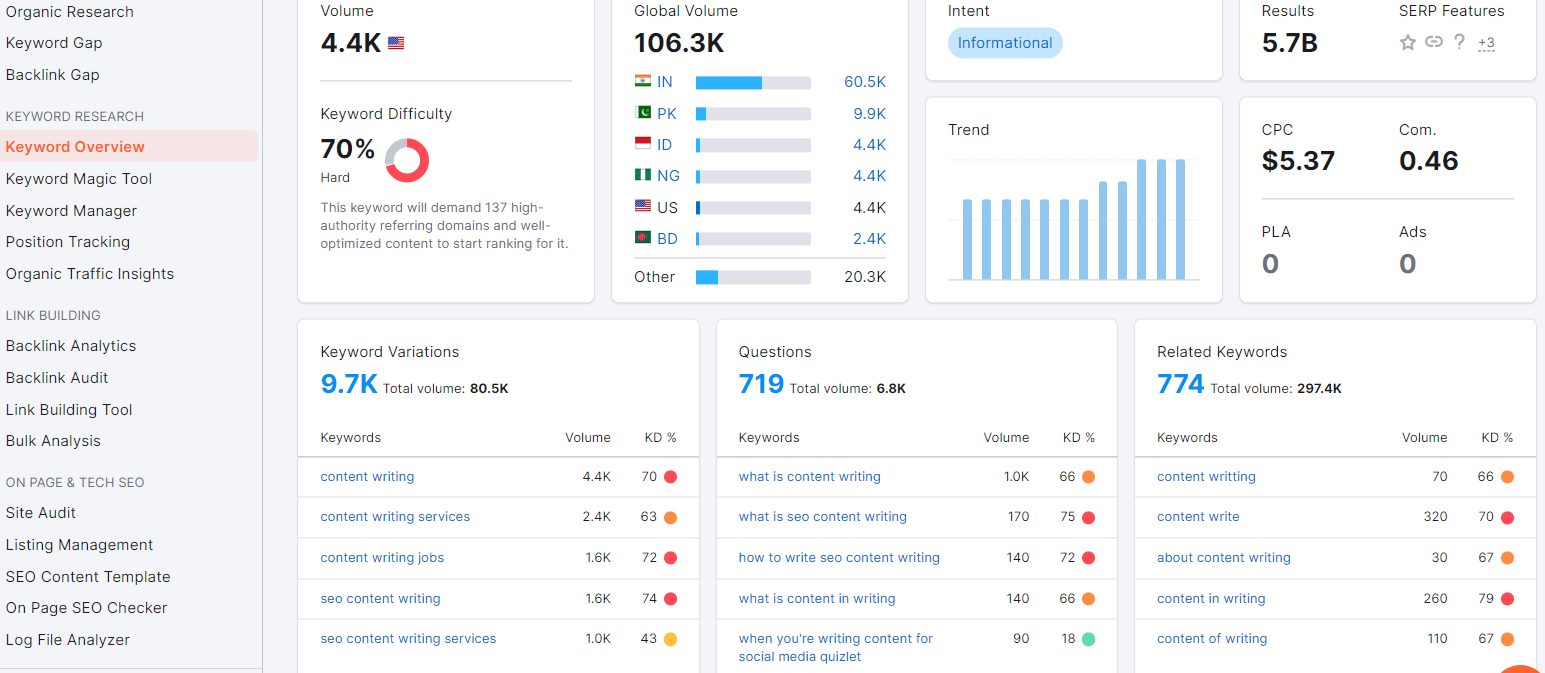 Keywords are important in the context of search engine optimization. Keywords are the words/phrases which make your content discoverable in the eyes of Google. Also, know that using high search volume keywords helps you beat your competitors. You can easily find relevant keywords with the help of the Google Trends API, which provides valuable insights into the popularity and identify trending topics, discover seasonal patterns, and even compare the interest in different keywords to make informed decisions for your marketing strategies or content creation. When finding keywords, you have to consider their search volume, difficulty level, and trends and lean towards long-tail KWs. You can use Mangools for keyword researching, here's a serpfocus mangools review for more information.
The location of keywords in your content plays an important role in improving your position in the search results of Google. Experts suggest that the keywords you are targeting should be used at least once in the top area of your content. This is because the content on top is weighed more by Google than the rest of the draft.
An important thing you need to know is that you must never overstuff your content with keywords, as it can have an adverse effect on your SEO score.
3. Always Create Unique Meta Title, Descriptions, and Content

Duplicate content can ruin any chances of you getting on the top search results. Duplicate content refers to content that has already been published on another source. Google states that a webmaster should always avoid duplicate and even near-duplicate versions of content in all parts of their site.
Plagiarism or duplication can occur in any part of your content, even if you haven't copied it from another source. This is because there is a huge amount of content written and published on Google. There is always a chance that multiple writers working on the same niche would have similarities in their work.
To avoid plagiarism in your metadata or in your website content, it is important that you use an online plagiarism checker. A plagiarism checker can easily find out similarities in your content with accuracy.
You can rewrite duplicate content with an online paraphrase tool. You just have to input the duplicate text in the tool and click on the 'rephrase' button. In a matter of seconds, the tool would rewrite the duplicate text in a unique way. To repurpose content for your site, it is best that you use a reliable paraphrasing tool like Rephraser.co
4. Optimize Your Site's Content with Headings and Subheadings
The structure of content also plays an important role in optimizing its quality. If your content has no structure, then it is simply going to sink into the lower SERPs. Adding headings and subheading tags to your content organizes it and makes it more readable. If you want to boost your SEO score and enhance user experience at the same time, you need to properly structure your content.
You can use up to six heading tags in your website content. These include H1, H2, H3, H4, H5, and H6. The H1 tags are the ones that are commonly used to introduce a page or the main topic. H2 tags are the ones that are the main headings in the topic on your webpage. Adding H2 tags gives an understanding to the readers about the main idea of the topic. The H3 to H6 tags are the subheadings that you can add under the H2 sections. These can be for lists, sub-sections, and FAQs.
An important tip to keep in mind is that you should try and use focused keywords in your header tags!
5. Try to Write Long-Form and Error-Free Content for Your Site
Long-form content has more authority in the eyes of the search engine. Long-form content refers to any type of content which is over 1000 words. According to SEO experts, the length of long-form content should be between 1000 to 2000 words.
The reason why google prefers long-form content more is because they can cover a topic in depth. Not only can a topic be addressed in a better way, but it engages readers on your site for a longer period. More engagement means a better SEO score, which results in a better position in search results.
When writing long-form content, you have to carefully plan the word count for each heading and subheading you want to add. You have to try and divide content into equal parts. For accurate heading management, you can use an online word counter tool.
An important point you need to note is always proofread your content for spelling, grammar, and punctuation mistakes before you publish it on your site. The higher quality of your content, the more you would have chances of earning quality backlinks which are beneficial for SEO.
Conclusion
There is plenty of content published on the web. It is quite difficult to create unique content which can provide you an edge over your competitor sites. You can use these five tips and strategies to create valuable content for your site. These tips would help you win the interest of Google and your target audience. An additional tip you must consider is that you must not forget about old content on your site. You can repurpose old content with online paraphraser tools and create new drafts for your audience. This boosts traffic, leads, and conversion rate!